First Bridge on County Rd 28
Massassauga Marsh
Ontario, Canada
Just off Hwy 62 on Cty Rd 28 to first bridge crossing the creek on the Massassauga Marsh. Safe place to park beside bridge and can access water easily. Sometimes lately spring flooding has closed access to this road for periods of time.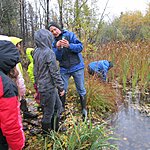 Lat: 44.1036273
Lng: -77.3948836
Waterbody Type: Wetland
Timezone: America/Toronto
Latest photos
View all photos
Partly cloudy and windy with several MM rainfall in past 24 hrs. Water very low and mud bars showing. Lots of weeds and algae as usual, and many ducks on the water.
Sunny day with thin clouds up high and no rain in past 24 hrs. Windy too. Very heavily overgrown with weeds and bullrushes. A large carp was floating dead in the water on other side of the bridge. Bag of garbage left at side of the river. Single swan in the distance .
Sunny with a few wispy clouds and no rain in past 24 hrs. Single swan on the pond not bothered at all me and our dog doing our testing nearby. So much weed growth and green algae bloom everywhere. Can hear lots of bullfrogs and toads croaking.
Sunny windy day with no rain in past 24 hrs. 3 or 4 swans, Canada Geese, a duck and songbirds in the area.
Overcast with some rain off & on and about 8 Mm in the past 24 hrs. Flock of Canada Geese flew away from the water as I arrived. Some ducks and a single heron around. So much green algae on the surface and many spots showing the muddy bottoms as no water there now. Conductivity reading was sky high and barely any Dissolved Oxygen in the water….not healthy signs!
Partly cloudy with no rain in past 24 hours. Heavy weeds, lily pads and green algae everywhere on the water surface, which is so low in parts that the bottom muck is visible. Swans in one area where the water is more open, Some ducks and songbirds in the air. Dead cormorant laying in the middle of the road at this bridge. Small bugs seen in the water sample container.
Sunny clear sky and very hot & humid. About 25-30 MM rainfall in most areas around here over past 24 hours. Some ducks flew overhead and songbirds around. Almost all the water surfaces covered heavily with green algae, other than further out where there is some open water.
Sunny calm day with just a few MM rainfall overnight in many areas. Red Winged blackbirds, ducks, Canada geese and a swan seen here today. Nice not seeing so many weeds as are here later in the season. Water had a bit of flow to it under the bridge, which helps.
Was raining until just now….still overcast but trying to clear up. Had about 12 MM rainfall overnight. Just a few ducks on the water on other side of the road. Lots of green algae as usual here.
Overcast and calm day with just a small bit of rain over past 24 hrs. No wildlife here this time, just the usual green algae bloom on the water on both sides of the bridge. Bag of garbage left by someone alongside the road here.