First Bridge on County Rd 28
Massassauga Marsh
Ontario, Canada
Just off Hwy 62 on Cty Rd 28 to first bridge crossing the creek on the Massassauga Marsh. Safe place to park beside bridge and can access water easily. Sometimes lately spring flooding has closed access to this road for periods of time.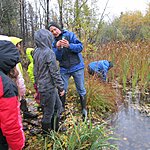 Lat: 44.1036273
Lng: -77.3948836
Waterbody Type: Wetland
Timezone: America/Toronto
Latest photos
View all photos
There are currently no issues at this location.