Purple Creek
Purple Creek
Jackson, Mississippi, United States
Located on upstream side of Purple Creek bridge on Westbrook Road. Access by parking on roadside and walking down either bank to creek. Westbrook Road and Purple Creek bridge at this location is east of the soccer field complex, after Westbrook enters a line of woods on either side of the road. Bridge is 0.13 miles west of the end of Westbrook Road. Westbrook ends at the gate entering the Westbrook family property.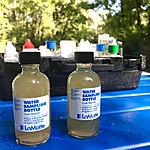 Lat: 32.3705198
Lng: -90.1100349
Waterbody Type: Creek
Timezone: America/Chicago
Latest photos
View all photos
There are currently no issues at this location.