Swan Lake
Swan Creek
Esquimalt, British Columbia, Canada
Swan Lake @ 'Founders Wharf'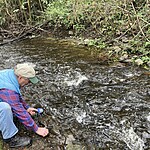 Site ID: 9
Lat: 48.464345
Lng: -123.3731273
Waterbody Type: Unknown
Timezone: America/Vancouver
Latest photos
View all photos
new rains have cleared much of the duckweed
large Trout observed struggling for oxygen
typical heavy lake weed on entire shoreline. American Bullfrog showing itself amongst heavy duckweed.
ph 'stick' could only record to 8.4 thus used LaMotte drops method
an explosion of this invasive species entered Swan Lake this year causing anxious times for the sanctuary.
Philosophy of watching nature take its course ... saw river otter, great blue heron & mink leading the slate of predators to reduce the population into a more comforting number .... at least until next season!