Art's Riffle
Swan Creek
Esquimalt, British Columbia, Canada
At the constructed riffle just downstream of Daisy Ave.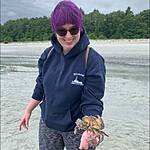 Site ID: 1
Lat: 48.46701
Lng: -123.40018
Waterbody Type: Creek
Timezone: America/Vancouver
Latest photos
View all photos
Melting snow & rain have raised the creek level & flow dramatically.
Enough rain last week allowed some Coho/ Cutthroat spawners to migrate up the riffles and use gravel beds that we've introduced to the Creek.
week#5 of 5in30 Fall Flush
#4 of 5in30 Fall Flush readings. Water volume entering the Colquitz R. from Swan Cr. is not adequate to encourage spawning Coho or Cutthroat up into the watershed.
#3 sample of 5in30 Fall flush > no rain for 2 days > lower water levels > No New visible action in gravel Nor
signs of Redds >> NO FISH sighted
Week#2 of 5in30 Fall Flush
Week #1 of 5in30 Flush readings. Past week has seen steady intermittent rainfalls plus mild 'atmospheric river' yesterday. Water levels & flow have increased at a healthy rate. Riffles look 'happy' again for the season!
First precipitation finally came 4 days ago so the water levels have begun to gently rise in the riffles.
Anecdote from passerby today about the Creek when he was a kid (late 1940's -early '50's) >> He use to haul in all the crayfish he could catch, then stomp on them on the road to kill them! >> He thought they were eating the trout that he was fishing for >> then he found out ... you could eat them and were really good tasting!!
Week #5 of 5 in 30 Low Flow testing
Shaded cool Creek temperatures are benefitting from Planted trees/shrubs on riparian shores