Art's Riffle
Swan Creek
Esquimalt, British Columbia, Canada
At the constructed riffle just downstream of Daisy Ave.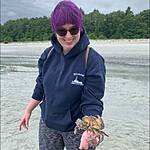 Site ID: 1
Lat: 48.46701
Lng: -123.40018
Waterbody Type: Creek
Timezone: America/Vancouver
Latest photos
View all photos
Week #5 of 5 in 30 Low Flow testing
Shaded cool Creek temperatures are benefitting from Planted trees/shrubs on riparian shores
Week #4 LowFlow 5 in 30 >2022
Week 3 of 5in30 LowFlow
yesterday cloudy and cooler to bring temps down by atleast 3c
First day of Summer 'Low Flow' 5in30 testing at this 'site 3' ...
also nice to see 2-3" fry active in the 'pool' above this low water riffle.
Tree/shrub shading definitely aids in keeping H2O temp cooler on these Hot 20-25C days.
Note that historically we sampled in the late afternoon >> so temps. might be slightly lower
on these
photos show seasonal HIGH water levels .
week#4 LowFlow 5 in 30 > 2019
approaching highest seasonal water levels then to typical seasonal flow