Big Creek at Bridge
Big Creek
Ontario, Canada
This site is just beside (upstream side) from a newly constructed replacement bridge on a busy rural 2-lane road. This location is very popular with anglers (Trout, muskie, etc.) as the water moves quickly over rocks/stones that may have been left when the first bridge was constructed in the 1960's.
Trees line the creek.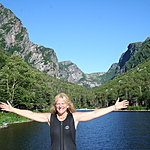 Site ID: BCB
Lat: 42.7744401
Lng: -80.4999161
Waterbody Type: Creek
Timezone: America/Toronto
Latest photos
No photos uploaded.
Observation tests summary
---