Near mouth
Mississippi River
Ottawa, Ontario, Canada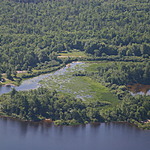 Lat: 45.4377912
Lng: -76.2804794
Waterbody Type: River
Timezone: America/Toronto
Latest photos
View all photos
Bubbly, yellow-green colour, thick algae. Similar to that in handbook seen a few years ago in same area - but not as bad.
Two fishing boats right at testing area.
Water very clear Today (Rare). One boater, cormorant seen,
First time in all my years doing this that I saw cormorants on this stretch of the Mississippi nesting and fishing.
Wind has died down and sun is out. A lot of cormorants. No osprey. Heard loons. The delta area seems to be getting bigger. Marsh is thick.
No bugs, breezy and no one on the water
Weather cloudy with sunny periods. Windy. Two osprey nests visible but no sighting of osprey. Saw heron and a kayaker as well as turtle. The delta weeds are just breaking through the surface of the water. Not too thick yet. Water was surprisingly warm for so early in the year.
People onshore enjoying the warm fall day. Boaters in area. Deadheads visible. No wind, no clouds, very still and hot.
There is a lot more Purple Loosestrife this year in comparison to the past 2 years although blooms are just about finished.
Osprey stand visible - no Osprey in sight.
Two boats with fishermen. Children playing at shoreline.
No wildlife to see which is odd at this time of year. Very few gulls.