Eubanks Creek
Eubanks Creek
Jackson, Mississippi, United States
Slow moving creek that drains to the Pearl River. Sample location is downstream from a sewer main.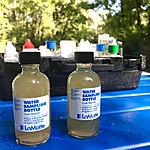 Site ID: EC
Lat: 32.3295157
Lng: -90.1540875
Waterbody Type: Unknown
Timezone: America/Chicago
Latest photos
View all photos
Observed on
2019-04-19
Heavy rain within 24 hours. Water covering the sewer line and manhole cover.