Byram Swinging Bridge
Pearl River
Jackson, Mississippi, United States
Byram Swinging Bridge connects Hinds and Rankin counties over the Pearl River. It was added to the National Register of Historic Places in 1979. Access the river from the west (Byram) side and sample just north of the bridge. River bank is sandy but hard-packed clay near the water's edge can be slippery.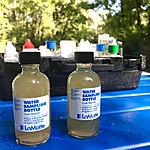 Lat: 32.1765387
Lng: -90.2435446
Waterbody Type: Unknown
Timezone: America/Chicago
Latest Photos
View all photos
There are currently no issues at this location.