Churchill park Bancroft
York river
Bancroft, Ontario, Canada
Off the boat launch at Churchill park in the town of Bancroft on Hastings st/Hwy 62 north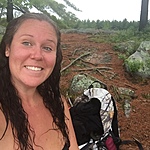 Latest photos
View all photos
Observed on
2022-08-29
Slightly overcast and calm. Few mosquitoes around, otherwise no other wildlife to report on.
Observed on
2022-06-03
Clear sky and calm….very little current in the river. Some water bugs, dragonflies and songbirds.
Observed on
2018-07-05
Recent heat wave with intermittent heavy rainfall. No rainfall for 36hrs previous to testing this...