Churchill park Bancroft
York river
Bancroft, Ontario, Canada
Off the boat launch at Churchill park in the town of Bancroft on Hastings st/Hwy 62 north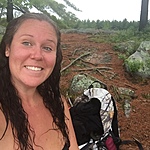 Latest photos
View all photos
Slightly overcast and calm. Few mosquitoes around, otherwise no other wildlife to report on.
Clear sky and calm….very little current in the river. Some water bugs, dragonflies and songbirds.
Recent heat wave with intermittent heavy rainfall. No rainfall for 36hrs previous to testing this location. This section of river runs through the town of Bancroft and several homes back onto the river.