Salmon River in Roblin
Salmon River
Ontario, Canada
Public access point along the Salmon River, in Roblin. Sample location upstream from the bridge, adjacent Hwy 41. Course gravel substrate, good riparian edge at this location.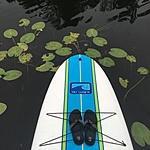 Site ID: SR-RB-01
Lat: 44.3753429
Lng: -77.0192242
Waterbody Type: River
Timezone: America/Toronto
Latest photos
View all photos
Elevated water levels, noticeable flooding. Lg trees along the shoreline partially submerged under water. Course gravel substrate and lots of debris and leaf litter observed. Quick, steady flow. Culvert intersects Hwy u/s from sample area.
Light rain, 73% Humidity, 101.6 kPa, Wind 27km SW.