Water source for town of Larder Lake
Glendalough Lake
Ontario, Canada
Kettle Lake located at the base of the Larder Lake ski hill which is fed by artesian well and supplies the water source for the town nearby. Test site was on the south west side of the lake near the bottom of the Axel ski run and mid-point between the pump house and lift house. Shoreline is wet and marshy so wear rubber boots or old shoes to get in along short path to the lake.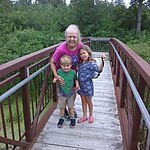 Lat: 48.0913526
Lng: -79.7261524
Waterbody Type: Unknown
Timezone: America/Toronto
Latest photos
View all photos
There are currently no issues at this location.