South Lancaster Wharf
St. Lawrence River
Ontario, Canada
The Wharf is a historical landmark that looks out over the St. Lawrence river. Its a popular relaxation/fishing/swimming spot for locals and is flanked by a row of colourful boathouse on its right side.
The water here is deep and the terrain rocky at the end of the wharf, but becomes shallow and soft-bottomed closer to the shore. Near the shore, there is high organic/sand content and lots of aquatic plant cover.
Danger may be potential fishhooks on the pavement or in the water, and the large slippery rocks in the water can be difficult to stand/walk on.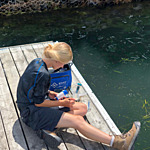 Lat: 45.1272595
Lng: -74.4873691
Waterbody Type: River
Timezone: America/Toronto
Latest photos
View all photos
There are currently no issues at this location.