Mikes Bridge
Swan Creek
Esquimalt, British Columbia, Canada
Walking bridge over Swan Creek named after one of the FofSCW Founding Members, tireless neighbour, riffle builder & first Water Quality Collector !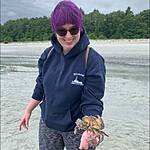 Site ID: 2
Lat: 48.46759
Lng: -123.39917
Waterbody Type: Creek
Timezone: America/Vancouver
Latest photos
View all photos
Restoration efforts rewarded with spawning observations this month/2016 year!
Creek bed mainly marine clay & jagged roadrock/asphalt rubble to be replaced with fish friendly river rock & spawning gravel over next few years with Federal/Provincial Permits in place!!