Itilleq
Baffin Bay, Arctic Ocean
Qeqqata Kommunia, Greenland
Water calm, weather crisp and sunny. Shore of bay is sheer rock except for an expanse of exceedingly soft meadow. Paw prints of fox in muddy area. Many different types of jellyfish and other aquatic species in bay.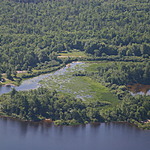 Lat: 66.8303704
Lng: -53.4591293
Waterbody Type: Bay
Timezone: America/Godthab
Latest photos
View all photos
There are currently no issues at this location.