Davis Strait
Karrat fjord, greenland
Qaasuitsup Kommunia, Greenland
Sunny, water calm, tide going out. Lots of icebergs from glacier seen in distance. Bergs had waterfalls on them from warm sun. Time of test is Greenlandic time - 2 hours ahead of EST.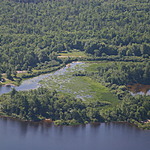 Lat: 71.5240386
Lng: -52.8717041
Waterbody Type: Inlet or Fjord
Timezone: America/Godthab
Latest photos
View all photos
Kittiwakes and fulmars with one chick flying or floating on water. Loud cracking noises from bergs.