Gibbs Fjord
Nunavut, Canada
Circumnavigated large rocky island in fjord. Stopped in bay fed by small rivulet from cliffs and mountains. Icebergs in fjord. Water fairly calm. Stopped about 50 feet from shore.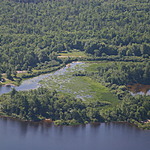 Lat: 70.9222527
Lng: -72.1688461
Waterbody Type: Inlet or Fjord
Timezone: America/Iqaluit
Latest photos
View all photos
Observed on
2016-08-20
Saw snow geese and king eider ducks (our only siting on this trip). Seals in distance. Fulmars ...