Lachine Canal at Pont Charlevoix
Lachine Canal
Montreal, Quebec, Canada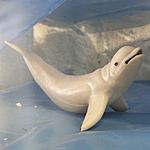 Lat: 45.4805
Lng: -73.5722
Waterbody Type: Canal
Timezone: America/Toronto
Latest photos
View all photos
Very warm day temperature says 30 Celsius but my app says feels like 40 Celsius. A lot more vegetation and algae than usual. Water level is also a bit higher than usual.
Brunch and water testing with a friend!
I forgot my conductivity meter :(
Someone dropped popcorn in the water. So there were lots of feeding seagulls.
The water level was pretty high. Conductivity has been lower than usual these past couple of tests.
Conductivity was low for this location. This observation was tested as part of a demo. We used 3 different conductivity meters and got similarly low values each time.
Water level was very low! It was my first time every seeing any sign of a crustacean at this testing location. I was very surprised to see that crab claw!
It was also my first time spotting zebra muscles at that location, although I did some research and they are found in the Lachine Canal!
Beautiful fall day. Sunny and cool. No rain yesterday or today. Water level is higher than usual, and some parameters are a bit different. Seems like the change of season is affecting the water!
Went testing with my friend Sam (pictured). Water level was high. Lots of rain this weekend.
Very windy. Couldn't take a proper test strip photo. The pH is very high. Water was very blue in the canal and in the St Lawrence. Not sure why!
Beautiful cool day! Water level is higher than last time I tested.
Someone fishing came to talk to me. Asked me if the water was polluted. He said that he's been fishing here for a while, that the water two years ago was full of fish but now he has trouble catching anything.