Britannia Bay Long Rock Point
Ottawa River
Aylmer, Ontario, Canada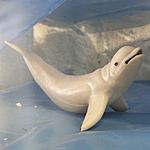 Lat: 45.3649
Lng: -75.8075
Waterbody Type: River
Timezone: America/Toronto
Latest photos
View all photos
Overcast, two men fishing- no catch -, beach quite busy, light foam near rocks.
Photo of spider on rocks.
Water has receded significantly from flood height, by 10-15 ft and 5-6 depth, see pictures May 06 vs June 09. Water still 4 feet higher than usual or so, shoreline still expanded. Three men fishing, many people visiting the rock point. Men caught three fish, "white fish" and catfish. Spider webs visible, large insect like a grasshopper I'm not familiar with. One person fishing said an eel was caught there last year, reported to the Ministry. Kayakers visible and seagulls.
Significant flooding at Britannia Bay.
Also, some mild effluent: dissipated foam.
Geese and seagulls present.
Gulls, unknown fish jumping, geese. Lots of algae on rocks, water level low by base of jetty (1-1.5 ft). Foggy and raining. Conductivity meter battery dead or unit not working. Water levels overall still quite low.
Mussel shells seen, geese and gulls seen, flock of unknown birds seen in distance on shoals, man wading thigh height half a kilometre from shore, water quite low, at swimming area, bottom exposed. Spiders on rocks we are sitting on. Semi-strong odour off water. Testing a day early and off of direct rock point for safety.
Quite windy, water choppy. Seagulls visible down the path. Spider webs are visible around rocks, see photos. No fish caught today according to a fisherman.
Ottawa River: Britannia Bay Long Rock Point (45.364869, -75.807543)
Two fishermen casting off the end of the rock point and a mother and two daughters visiting. Cicadas audible and geese. One catfish was caught while I was there, which the fishermen said they will eat.
One person fishing, windy, turbid water, no water craft. Still a lot of garbage on rocks. Overall water levels at Britannia Bay have risen after days of rain.
14 sailboats, jet ski, 2 kayaks and 3-4 powerboats visible during my time on the point. Last week at this time I saw 6-8 people fishing and about 20 people watching the sunset here. One person caught 4 bass in 15 minutes. The boats are honking horns loud. The young lifeguard on the beach nearby noted this is the lowest the beach has been in 6 years. It is receded by 10-14 feet since the start of the season. One person sunning themselves on the rocks a few feet into the water halfway down the point. Rocks are covered with spiders, spider webs and a large amount of fast food litter.