Floating Docks on Silver Lake
Silver Lake, Port Dover
Port Dover, Ontario, Canada
West area of the lake where floating docks are installed near the Silver Lake Farmers Market Building.
Water is usually still with little wave action and no dangers exist here.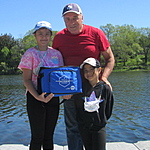 Lat: 42.7921413
Lng: -80.2042724
Waterbody Type: Lake
Timezone: America/Toronto
Latest photos
View all photos
There are currently no notes at this location.