Lavergne Marsh
Ottawa River
Ottawa, Ontario, Canada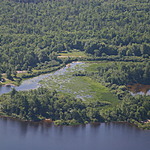 Lat: 45.4518175
Lng: -76.2841528
Waterbody Type: River
Timezone: America/Toronto
Latest photos
View all photos
Sounds of bullfrogs. Geese flying in formation overhead
Secchi site was very weedy. Unsure if secchi disappeared or was hidden by weeds. Water very murky.
Microplastic test done.
Zebra mussel block has disappeared. Will need to replace.
Water very brown and turbid
Mustard yellow soupy water. Could not see the weeds under the water as it was so murky
Water still very high. Saw canoe and a small fishing boat and deer. Saw osprey . Lots of broken limbs, logs and debris along shoreline. High water mark evident.
Water high with a lot of logs/debris due to flooding. No animals or birds. Marsh plants are late arriving. Pic of noticeable high water line at the marsh test site.
- a brisk breeze and very sunny
- flock of geese landed on the other side of the bay while we were testing here.
- one other boat besides ours
Mostly quiet
lots of bird sounds
Water extremely low
Partly sunny skies and calm