Wascana Trails
Wascana Creek
Saskatchewan, Canada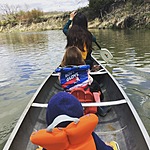 Lat: 50.5564999
Lng: -104.8421001
Waterbody Type: Unknown
Timezone: America/Regina
Latest Photos
View all photos
Creek at sampling site is now fully iced over; air temp = -12 degrees Celsius
Small patches of water are still open on the creek. This photo is about 100m upstream of the sampling location. Sampling location is to the right of the bridge in the background.
At Wascana Trails, Wascana Creek is mainly iced over, except at some rocky riffles where the water is still open (see photos).
A beautiful day and I thought I might get lucky and have some open water at the site to water sample. However, the creek is now mostly iced over so no water samples were taken. There are still open patches of water at the rocky riffles.
The creek has risen since last sample. It is a beautiful foggy autumn day!
Creek has risen after heavy rainfall two days ago. Conductivity dropped significantly. Chlorine=0.25ppm
Chlorine = 0.25 ppm (will not accept this value in appropriate spot)