Wascana Trails
Wascana Creek
Saskatchewan, Canada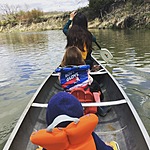 Lat: 50.5564999
Lng: -104.8421001
Waterbody Type: Creek
Timezone: America/Regina
Latest photos
View all photos
Clear skies, water is higher at sampling site
Beautiful sunny day with few clouds and a slight breeze. Wascana Creek is up and flowing quickly.
Overcast skies and breezy
Sunny day, few clouds with a breeze; chilly morning with a low of 2 degrees Celsius
Beautiful sunny day with a slight breeze.
The new pH monitor was used for the first time today. Test strips indicated pH of 8.4 and the Preciva pH meter measured 8.8.
First water sample of 2020 at this location. Beautiful morning! A pair of mallards we're swimming near the sample site.
The creek has iced over again.
Wascana Creek is now wide open. The remaining ice broke up overnight (see yesterday's photos submitted).
There is open water on the creek and about a foot of water on top of the ice. The water appears yellow at the left (east) side of the bank. A dead muskrat (earlier was frozen into the ice) is floating along the bank. Did not bring sampling kit to submit water quality data.