Rabby Creek
Dog River
Mobile, Alabama, United States
Rabby Creek, located at south west corner of I-10 and Dauphin Island Parkway. Tidal influence. Water ranges from 3' to 4.5' deep. Lat: 30.6368597
Lng: -88.0897307
Waterbody Type: Unknown
Timezone: America/Chicago
Latest photos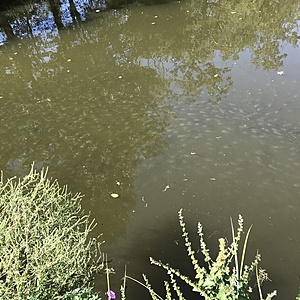 View all photos
Thousands of 4-5" shad schooling at monitoring site. Weather temperature is dropping from the high 90s to the high 80s-low 90s. Fall is approaching. Little to no rain predicted for another week.
0.01" rain the last 24 hrs. 0.03 rain the last 48 hrs. Overcast, with little to no sun, the last two days. 3mph SSE wind. Low tide about to change to incoming tide.