ECGS
Eight Mile Creek @ Goodman St
Mobile, Alabama, United States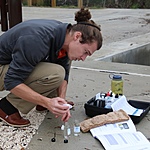 Site ID: ECGS
Lat: 30.7489998
Lng: -88.1325998
Waterbody Type: Creek
Timezone: America/Chicago
Latest photos
View all photos
Foul odor, pretty turbid, moving fast, air temp 7 degrees Celsius, not a lot of litter
fast moving current, lots of rocks,
-Air Temp: 2 Degrees
-Water Temp:9 Degrees
-lots of rocks
-natural water
-Water is clear( can see the bottom) lot of velocity and rocks.
-Natural (down and upstreet)
-TONS OF ROCKS
Vegetation has grown very well
The water is moving very quickly
There're plenty of rocks
Some are dry
The water is clear
Quite a bit of trash, more than last time. Possible homeless presence.