Belhaven Beach
Pearl River
Jackson, Mississippi, United States
Sandbar on west bank of Pearl River south of Jackson Waterworks. Accessible through the Belhaven Neighborhood at the end of Laurel St.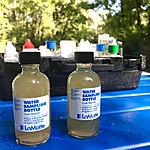 Site ID: BB
Lat: 32.3170767
Lng: -90.1541305
Waterbody Type: Unknown
Timezone: America/Chicago
Latest Photos
View all photos
Sandbar completely covered. Very heavy rain in the previous days due to Tropical Storm Cristobal.
River was higher, into the woods.
The sandbar can be seen again!
The current was extremely fast when we took the samples.
The water was much higher than we had ever seen. The entire sandbar was covered and the water came up to the wooded area near the end of the trail.
Sunny and cold with no wind. High water level with sandbar completely submerged.