Rosemont Church
Lynch Creek
Jackson, Mississippi, United States
Urban creek running through West Jackson. Testing location is off Officer Thomas Catchings, Sr Dr, in between Williams St and Roland St. This section of the creek is being restored through a cooperative effort led by Rosemont Baptist Church and MS Urban Forest Council.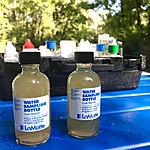 Lat: 32.319416
Lng: -90.2332878
Waterbody Type: Creek
Timezone: America/Chicago
Latest Photos
View all photos
There are currently no issues at this location.