North Frontenac Parklands Campsite 12
Kashwakamak Lake
Ontario, Canada
This is a car access site. Moderate slope to level, rocky shoreline.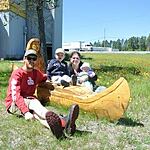 Lat: 44.8690704
Lng: -77.052784
Waterbody Type: Unknown
Timezone: America/Toronto
Latest photos
View all photos
Observed on
2020-08-06
There was a huge storm on the Monday night. We saw a dragonfly being eaten by a spider on a mil...
Observed on
2018-08-01
Many Loons in the area teaching their young to fish.