Bolton Branch
Bolton Branch
Mobile, Alabama, United States
East Bolton Branch at Navco Road.
Channelized stream, faces significant impacts from urban stormwater runoff, Sanitary Sewer Overflows (SSO's), litter and sedimentation (See Reynolds, 2008 - http://goo.gl/ULwUC1). More than 75% of the watershed is characterized by urban land cover.
The creek was listed as an impaired water due to pathogens (bacteria) in 2004 based on data collected by MAWSS as a result of the Supplemental Environmental Projects (SEP) required by their consent decree with Mobile Baykeeper. A Total Maximum Daily Load (TMDL) - http://goo.gl/8g0eSO was prepared by ADEM for the creek to aid in reducing impairment due to bacteria in 2009.
From the sample site the creek travels approximately 0.5 river miles to the confluence with Eslava Creek. Drainage area at sampling site is 1494 acres. Bolton Branch drains into Eslava Creek which is a tributary of Dog River.
Sampling site is on North bank of stream, use caution as there is a significant drop from the parking lot above to the stream bank.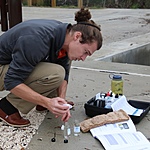 Site ID: AWW06005018
Lat: 30.644969
Lng: -88.102659
Waterbody Type: Unknown
Timezone: US/Central
Latest photos
View all photos
There are currently no issues at this location.