Ardmore Beach
Georgian Bay
Tiny, Ontario, Canada
Beautiful quiet, sandy beach right at the end of Brook Ave. in tiny township. Follow public access path to end. Beautiful sunsets.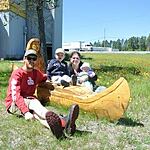 Lat: 44.7016669
Lng: -80.0071192
Waterbody Type: Unknown
Timezone: America/Toronto
Latest Photos
View all photos
Observed on
2019-04-22
Ice chunks still in bay. Water line appears lower than last year, at this time.
Observed on
2018-07-20
Beautiful eveing to show some good friends how to test.