Old Trace Park
Ross Barnett Reservoir
Ridgeland, Mississippi, United States
Shoreline park on the west side of the Ross Barnett Reservoir. Lots of boat traffic. Canada Geese are prevalent. Sample in front of the electrical platform.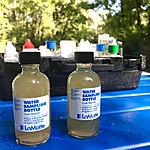 Site ID: OTP
Lat: 32.4243659
Lng: -90.0802732
Waterbody Type: Unknown
Timezone: America/Chicago
Latest Photos
View all photos
There are currently no issues at this location.