Humber Bay Shores Park at Waterfront Dr.
Lake Ontario
Etobicoke, Ontario, Canada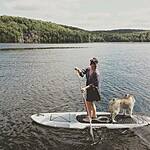 Group

: Protect Water Toronto
Site ID: HBS-001
Lat: 43.629
Lng: -79.4744003
Waterbody Type: Lake
Timezone: America/Toronto
Latest photos
View all photos
Very calm water. Lots of mallard ducks, one swan. Less driftwood debris in water. Murky water.
Very calm morning. First very sunny and warm day in a while. Water looking murky and green. There was some clear blobs floating near the shoreline, not sure what it was. Lots of driftwood floating out in the water was visible because of how calm the water was. Mimico beach clean up scheduled for tomorrow.
Very clear sky, not a cloud. Calm water. Lots of birds: mallard ducks, seagulls, swans, and merganser or bufflehead. Some zebra mussels attached to wooden debris on shoreline about 5 feet back from where current water line is.
Some wind today, a few snowflakes falling. Cloudy with some sun. A few days after intense snowstorms. Water mostly calm. Some birds flying - seagulls, water fowl. Did see what looked like some mussels on a twig where the water level used to be but nowhere else. Algae on the rocks. Cleaned some plastic pollution off the shoreline.
Calm water, nearly no wind this morning. Murky water - there were very intense winds and a snowstorm yesterday. Three pairs of mallard ducks, one swan, two seagulls, one robin. Lots of driftwood on the shore which was seen here last year after winter - a shoreline clean up team from the city sometimes removes it. Small plastic pollution in natural debris on shore and on rocks. A sweater left under a log on the rocks.