Westmeath Boat Launch
Ottawa River
Ontario, Canada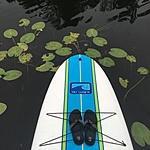 Lat: 45.8163131
Lng: -76.893568
Waterbody Type: Unknown
Timezone: America/Toronto
Latest photos
View all photos
Heavy rain in the last 24hrs. Water levels in the Ottawa River significantly higher then just a few days ago. Water teaming with life. A large mass of Mayfly seen swimming along shoreline. Lots of garbage and debris floating in the water at this location.
Light rain, 80% Humidity, 100.9 kPa, Wind 12km E.
Geese, ducks and loons swimming just off shore, across the river from sample area near Westmeath Provincal Park. Garbage noticed floating in the water. Glass, plastic, and paper litter the ground in this area. Picked up a small bag of litter... much more litter still out of reach from the shoreline.
Clear, 42% Humidity, 101.4 kPa, Wind 5km SW.
Light snow, Wind 5 km E, 80% Humidity, 100.8 kPa.
Testing early spring runoff in this area. Creek that runs into the Ottawa River at this location measures very high conductivity. It is relative of seasonal runoff occurrences for sodium chloride.
Snow still blanketing the ground surrounding the creek. This creek flows quite quickly during runoff events and has large debris scattered throughout stream bed. Accumulation of large tree branches and leaf litter has created small pools at various locations along the stream.
This site was not tested this time last year, but was monitored throughout the summer. Further testing during the next few weeks will provide enough evidence to formulate a conclusion regarding the increased levels of conductivity as a source of pollution via road salt applications.
Wind 7 km SE, Humidity 55%, Cloud Cover 30%, 103.3 kPa
TDS 85 ppm - mg/L
Cold but sunny today. First snowfall a few days ago, a light dusting of snow still remains on the ground. Ice starting to form along shoreline. Water levels quite high, record levels of precipitation occurring this year have raised water levels well above seasonal norms.
Wind 10 km W, 101.2 kPa, 48 % Humidity.
Beautiful day, sunny and hot. A few people out fishing today offshore.
Wind 5 km W, 98% Humidity, 102.6 kPa, TDS 43 ppm. Beautiful morning for taking water samples.
Wind 7 km NE, 101 kPa, 47 % Humidity.
Sunny day, out collecting benthics amongst the dense aquatic plants to the left of the boat launch.
Quite a few people out on the water today enjoying this weather. A family in a small metal boat fishing just off shore amongst the weeds. Many damselflies and dragonflies buzzing around the swamp.
Wind 7 km W, 72 % Humidity, 101.3 kPa
Wind 4 km W, 59% Humidity, 101.7 kPa, TDS ppm 41.
Wind 10 km E, 35 % Humidity, 101.7 kPa, out on the paddle boards collecting garbage and stretching out our paddling cob webs. Collecting benthics today to test out our homemade microscope. Took it to a BBQ with our benthic samples and showed some future citizen scientists a little water biology.