Lake Dore
Shaw Woods Dam
Ontario, Canada
Shaw Woods Outdoor Education Centre
2065 Bulger Road, North Algona Wilberforce Township
The unique topography and diverse habitats of the Shaw Woods offer researchers an exceptional location for research projects.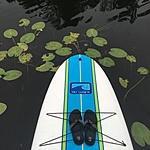 Lat: 45.6335762
Lng: -77.0646501
Waterbody Type: River
Timezone: America/Toronto
Latest photos
View all photos
Observed on
2018-05-01
Class 2 Electrofishing certification course. Sample taken d/s below the dam at Shaw Woods, at the...
Observed on
2017-10-23
Water testing with students for the Shaw woods challenge.... write more and add pictures later;)
Observed on
2016-11-13
Collected both fish and benthic invertebrates below the dam to see if there was any indicators of...