Hell Ditch, Godalming
Hell Ditch
Farncombe, Surrey, United Kingdom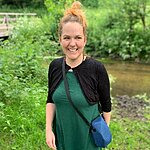 Latest photos
View all photos
cattle grazing in adjacent field.
Very heavy downpours in previous week so water level higher and faster than usual.
Cattle on Lammas Land but with no access to water at this testing site.
Sparrows, blackbirds, wood pigeons.
Dogs drinking and cooking off.
Clear water, steady flow, no odour.
Red kite, common blue butterfly, swifts, bees nest in bank.
Two mallard ducks on water, cabbage white butterfly.
Stream high and fast following yesterday's heavy rain showers. Lots of birdlife on surrounding Lammas Lands - mallards, kestrel, little egret.
Testing spot runs alongside allotments.