Salt Creek, Elk Grove Village, IL at Morton Park
Salt Creek
Elk Grove Village, Illinois, United States
Stream runs through public parks on both sides of the creek at this point. Water flows at a slow to moderate rate most times of the year. Easy access at installed access points.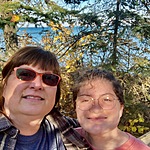 Group

: Winter Chloride Watchers
Site ID: R0212218
Lat: 42.003272
Lng: -87.9953814
Waterbody Type: Stream
Timezone: America/Chicago
Latest photos
No photos uploaded.
Observation tests summary
---