Lavergne Bay and Lavergne Marsh
Ottawa River
Ottawa, Ontario, Canada
Marsh has had changes over past couple of years. The spit of land between the marsh and the mouth of the Mississippi is now devoid of trees as they were cut down. Leaves marsh more open to flooding and wind. Large commercial dock and launch built just outside of marsh although not used much.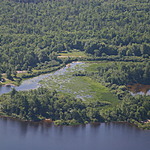 Lat: 45.4520931
Lng: -76.2835693
Waterbody Type: River
Timezone: America/Toronto
Latest photos
View all photos
Windy - hard to keep boat over usual testing area.
A lot of deer flies around.
Two water snakes interacting. Something was squealing - I couldn't tell if it was the snakes or if they had something in their mouths.
Water is low and warm. Although the testing was done in Lavergne Bay near the marsh, these pictures were taken inside the marsh.
Air is Cooling down. River and marsh are quiet. Could hear peepers beginning.
Weather cloudy with sunny periods. Off shore wind coming from the east. No one on water. Green lane buoy (for Boat Bypass lanes) has disappeared.
Very hot and still. No breeze.
Sounds of bullfrogs. Geese flying in formation overhead. Secchi test site was very weedy - not sure if disc disappeared from view or was hidden under weeds. Water very murky.