Issue report
Water quality
Mobile, Alabama, United States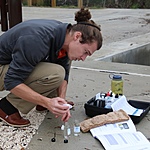 ---
About this Location
West Bolton Branch : West Bolton Branch at Azalea Rd
~37 foot wide channelized drainage with urban land use in drainage area. Drainage Area upstream is approximately 4.76 square kilometers. Stream is ...
Significantly increased turbidity coming from upstream stormwater pollution source. from dr. fearn - "when i crossed montlimar canal at highway 90, i noticed that it was incredibly turbid ( about 1 pm today) i tracked it upstream as far as i had time for. it is coming from somewhere upstream of azalea road crossing of west bolton. whatever is happening, it is clearly increasing turbidity 50 ntu above background."
Weather
Small amount of rain in last 24 hours.
Have you seen this before?
No
Have you notified any other agencies?
ADEM, City of Mobile Environmental;
---
Issue history
2016-08-26 - 10:46:00

Water quality reported to Mobile Baykeeper : Mobile Baykeeper Team by Cade Kistler.

2016-08-26 - 10:51:00

Cade Kistler accepted this issue. Awaiting investigation.

2016-08-26 - 10:51:00

Cade Kistler is currently investigating this issue.

Issue has been reported to ADEM Mobile stormwater personnel, and City of Mobile Environmental personnel for inspection. Will report results of investigation as we learn more.
---