Issue report
Other
Arnprior, Ontario, Canada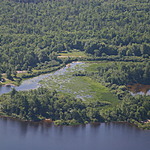 ---
About this Location
Mouth of Madawaska River : Madawaska at Ottawa rivers
Water is fairly fast moving along shore of town of Arnprior and running alongside town effluence pipe. Town pipe dumps contents into Ottawa approx...
Notes
The test for total hardness was 0.0. found this odd as i had done testing in 2 other spots that morning with hardness ratings.
Details:
Have you seen this before?
No
Have you notified any other agencies?
No
---
Issue history