Issue Report
Other
Gatineau, Ontario, Canada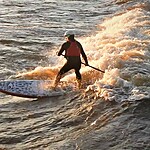 Reported on: Sat, 13 Jul 2019 17:00 EDT
Lat: 45.4109394
Lng: -75.7402856
---
About this Location
Ottawa River : Sculpture Point
This is the point just downriver of John Ceprano's sculptures, where the water flows rapidly over a raised shelf, forming small rapids.
Notes
Reasonably sized white boat observed sunk on the shelf just below john ceprano balanced rock art. this boat was first observed sunk off of remic beach on saturday 29 june 2019 and reported. it has now washed down river a couple of hundred metres and is resting on the bottom of the river. the top deck of the boat is red and the hull is white. no markings or identification visible. still unable to see the stern of the boat to verify whether or not there is a motor.
Details:
Have you seen this before?
Yes first observed a couple hundred metres upriver on Saturday 29 June 2019.
Have you notified any other agencies?
Ottawa Riverkeeper
Weather
---
Issue History