Issue report
Other
Quebec, Canada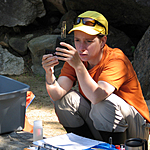 ---
About this Location
Ottawa River : Webb's Bay
Small bay on Quebec side of Ottawa River. North shoreline is primarily wetland habitat/marsh with tall vegetation. About 3-4 small seasonal cottage...
Invasive species: in webb's bay, bristol, quebec (ottawa river). while kayaking i found some eurasian water milfoil (invasive species). found a few plants spread out over the bay. it can be identified by the number of segments. there are 12 or more segments on each leaf. not a major problem at the moment, but may become more dense over time.
Weather
Weather: Clear/Partly Cloudy, warm, calm
Have you seen this before?
no
Have you notified any other agencies?
Ottawa Riverkeeper
---
Issue history