20th Street Outfall
Wagg Creek
North Vancouver, British Columbia, Canada
--Location retired---
Large cement storm pipe continually discharging a large volume of water into a pool created by rip rap.
Lat: 49.3274659
Lng: -123.0761003
Waterbody Type: Stream
Timezone: America/Vancouver
Latest photos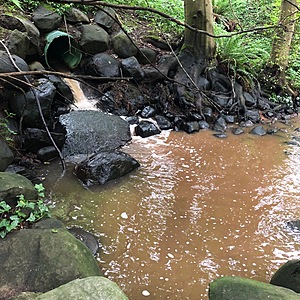 View all photos
Water is murky with brownish green cast, very turbid
Water is coming out of the pipe but less water than usual. Water is murky, smells like metal or chemicals.
Saw water strider bugs.
Water flowing from pipe smelled chemical/metallic, strong brown discolouration.
Strong chemical/metal smell. water flowing from pipe with great velocity