?
Mobile, Alabama, United States
We observe that the water is very muddy and the color is quite grayish/greenish. The water looks very polluted and not very save enough for any fish to swim nor for birds to come and wash off in. This water is slightly clear looking once you get up close to it but once your far away it's a sight you wouldn't even want to stop at. The water looks very contaminated and unsafe as well as the trees and plants around it doesn't look up to par.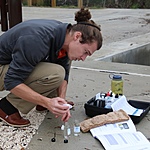 Site ID: Tmcm
Lat: 30.7004251
Lng: -88.0523048
Waterbody Type: Unknown
Timezone: America/Chicago
Latest Photos
No photos uploaded.
There are no observations or issues for this location.